Currently we can offer exclusively some top-rarities among the tetra family, all German bred. One of them is Hyphessobrycon piranga, which was introduced in the hobby by Peter and Martin Hoffmann in the German magazine Datz (issue 11/2017) under the unusual name of "Hyphessobrycon sp. non-red devil". Despite the fact that the new tetra has a lot of red colours it is obviously not identical with the probably still undescribed species that is known as "Red Devil" in the hobby and that develops inter alia much larger fins. The "non-red devil" was described officially in march 2018 under the name of Hyphessobrycon piranga. The new species occur from rivers in the upper rio Tapajós catchment.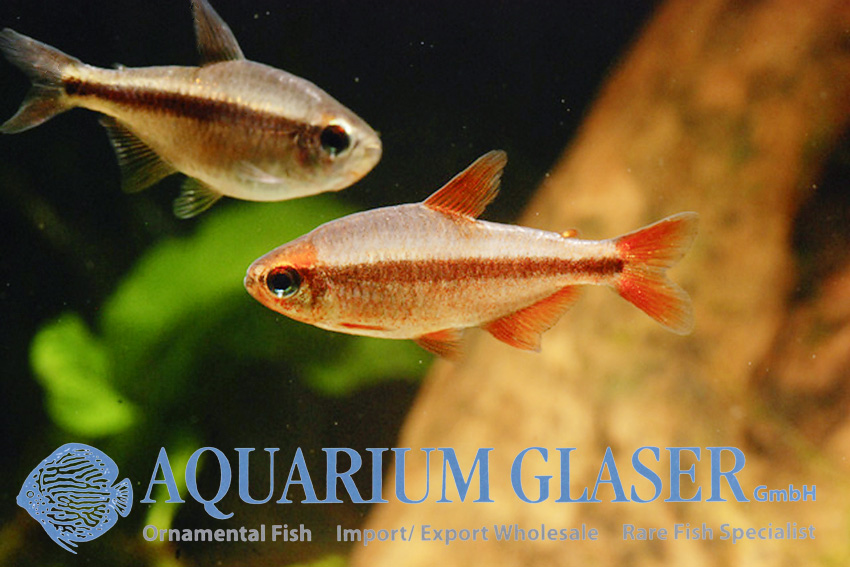 The males of the pretty species have red fins, while the females remind one a bit in black neons (H. herbertaxelrodi) or H. nigricinctus. In the wild the fish are mature at a size of about 2 cm standard length (without fins), but in the aquarium they will grow a bit larger. The photographed bred ones are about 3 cm long. The photo made by Peter Hoffmann shows a pair of the breeders.
This tetra is a beautiful, easy to keep and very lively fish.
For our customers: the fish have code 261552 on our stocklist. Please note that we exclusively supply the wholesale trade.
Text: Frank Schäfer, photos: Frank Schäfer & Peter Hoffmann