From the Rio Nanay in Peru comes this beautiful spotted armored catfish, which probably belongs to a scientifically undescribed species. It was first mentioned and pictured in aquaristic literature as Corydoras punctatus in the 1930s, but C. punctatus is a completely different species that looks similar to C. julii. Later, the "Nanay" was sometimes assigned to C. ambiacus and sometimes to C. agassizii, both determinations that do not stand up to close scrutiny.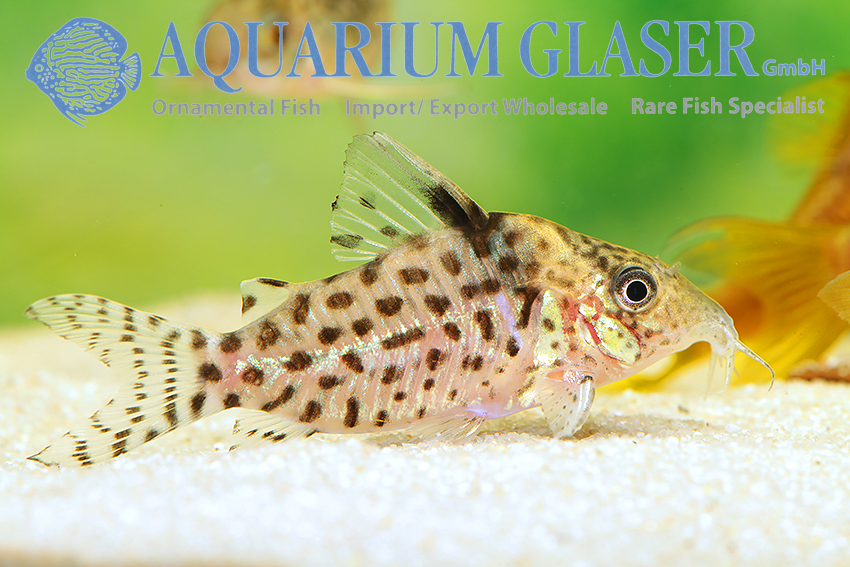 At the moment we have especially beautiful, about 5 cm long specimens of this Peruvian in our stock, which is why we present the species here one more time. With this length the "Nanay" is also largely fully grown in nature, although old aquarium specimens can certainly add another centimeter. They are very peaceful, easy to care for and adaptable fish. The Rio Nanay is a black water river, therefore this corydoras can be kept well in soft and acidic water, but any tap water suitable as drinking water is equally well suited for care. Breeding on the other hand has probably never been successful (see https://www.aquariumglaser.de/en/fish-archives/corydoras-punctatus-nanay-2/).
For our customers: the fish have code 242053 on our stocklist. Please note that we only supply wholesale.
Text & photos: Frank Schäfer